The Woodlands Seafood Market has been the top retail seafood market and wholesale dealer of fresh and live seafood in the Greater Houston area since 1996. Come experience the market located in The Woodlands, just off of I-45 North on Rayford Road.
While we specialize in Gulf Coast seafood, we also fly in the freshest seafood from the East & West Coasts, Central and South America, Europe, the South Pacific, Alaska, Hawaii, and New Zealand. When you shop at The Woodlands Seafood Market, you can be absolutely assured that our suppliers are real fishermen, oystermen, crabbers, netters, farmers and trappers who are sending only the best quality seafood to you!
Keep up with the daily seafood arrivals/specials in the Woodlands Seafood Market and at CrabbyDaddy's on our Facebook and Twitter pages, or sign up for our Newsletter. Hope to see you soon!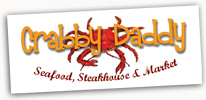 Not on our menu? Request it from the market.
We want your dining experience to be just as you desire!
Everyday of the week you will see freshly filleted steak and fish from all over such as:
Wild Alaskan Salmon
Sashimi Quality Tuna
Mahi Mahi
Red Snapper
Escolar
Bonita Mackerel
Chilean Sea Bass
Swordfish
Redfish
John Dory
Halibut

Amberjack
Flounder
Haddock
Barracuda
Wahoo
Marlin
Monkfish
Live Blue Crab
Live Lobster
Tons of Crawfish
Five to six sizes of Gulf Shrimp
Live clams

Oysters
Mussels
Freshly picked crab meat
Scallops
Soft shelled crabs
Freshly picked crawfish tails
And fresh, whole fish of many varieties as well